Welcome to my Bookstore (Juvenile Section). I am constantly updating it as more sales outlets accept my books. Click the different outlets to go to the preview page of that outlet, follow the links to order.
THE BAILE CORCRA SERIES
Unexpected Arrival (Book One)

A bus full of middle-school students are heading home on a cold March afternoon. As the driver makes a right turn an intense bright light engulfs the bus, blinding everyone. Moments later the light disappears and the students find themselves in whole new world.
Welcome to Baile Corcra, a pre-industrialized sparsely populated planet in an unknown galaxy. Follow the exploits of the students through their own eyes as they struggle to adapt and survive in an alien world. From hazy green skies and purple grass, to vicious humans, aliens and hostile plant life the students will face challenges to survive and grow into a strong self-reliant community. They rest their hope on two adults whom they thought were just school-bus drivers. Can they adjust to the new world, or will they become the next victims of a hostile planet?
THE BAILE CORCRA SERIES
Adolescent Peril (Book Two)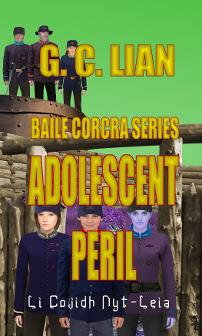 Sarge and the humans from Earth have survived a very trying first year on the alien planet Baile Corcra. After fighting off native wildlife, and nearly being annihilated by the resident humans known as the Banne, they have settled down and established a thriving community. Over the next four years their bond with the native aliens known as the Kleyn grows, with some even joining the small human community. Just as things seem to be going well a civil war breaks out among the Kleyn and hurls Sarge and his people into a fight for their survival again.
THE BAILE CORCRA SERIES
Maturity (Book Three)
(Jun 2018)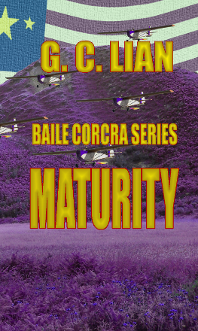 Almost a year has passed since the rebel Kleyn (called Nyt-Leia) and their ally the Banne started a war drawing Sarge and his humans from Earth into a fight for survival again. Using advanced weaponry and rocket powered gliders; Sarge and his army crushed the Banne and forced them out of the war early in the fight. However, Amdrot the Supreme Leader of the Nyt-Leia led an invasion of over 15,000 troops into the human territory with the intent of destroying Sarge and his people, the formidable ally of the Kleyn. After a series of successful battles, the Nyt-Leia were utterly routed at the Battle of the Vicente Trench Line forcing their retreat back to the occupied Grassland Kleyn territory.
The tide has turned, now Sarge has planned an offensive with help of his Kleyn allies to end the war. Have the small group of stranded students from Earth matured into fighters and leaders necessary to do the job, or will their community finally fracture from the viciousness of life on Baile Corcra.